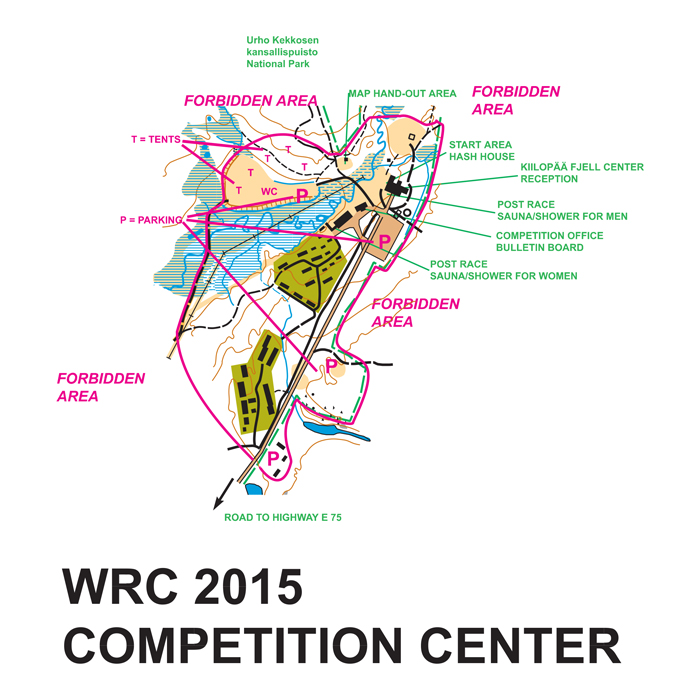 Bulletin 4
15.7.2015


Travelling
By train
Train
time-
tables
are
now
online
(1)

You
can
also
buy
your
ticket
from
the
online
reservation
system
there
. Train is
nice
and
easy
way
to
travel
to Rovaniemi
from
southern
Finland.
By plane
There
are
also
reasonable
priced
flights
Helsinki-Ivalo and Helsinki-Rovaniemi. More
details
and
bookings
Finnair (2)
Norwegian
(3)
Rental car
Remember
also
rental
car
special
offer
.
You
can
find
rental
cars
from
every
airport
,
from
biggest
cities
and
from
Rovaniemi
railway
station
.
We
have
negotiated
special
prices
for
participants
with
Europcar
(4).
Please
use
code
52439375
when
booking
Bus
tickets
to
Kiilopää
From
Ivalo
airport
 (5)

From Rovaniemi
airport
(6)
From Rovaniemi
railway
station
(7)
If
you
need
transportation
Saariselkä-
Kiilopää
or
Kiilopää
-Saariselkä
use
the
form
in
link
.
(8)
Arriving
at
Kiilopää
Follow
the
road
guidance
at
road
E75.
Follow
the
instructions
and
signage
of
parking
staff
.
There
are
plenty
of
cars
and
not
much
space
.

Map
of
Competition
Centre































Read also previous instructions

Invitation
(9)

Bulletin 1 (10)
Bulletin 2
(11)

Bulletin 3


(12)


Obligatory
equipment
Each
competitor
must
have
:
-
The
race
number
–
provided
by
the
organizers
–
must
be
worn
visibly
on
the
front
.
The
advertisements
must
be
visible
.
- SI
card
–
provided
by
the
organizers
–
must
be
tied
and
sealed
around
competitor's
wrist
- a
whistle
- a
hat
(
Buff
,
cap
,
beanie
/
woolly
hat
)
-
spare
undershirt
/
thermal
(
non-cotton
)
-
windproof
jacket
(
this
must
be
of
competitor's
own
size
; single
use
rain
jackets
or
ponchos
are
not
adequate
)
Each
team
must
have
:
- a
waterproof
pen
,
marker
or
pencil
- a
first
aid
kit
.
This
must
contain
first
aid
gauze
(
pack
or
two
rolls
),
band
aid
and 2
meters
of at
least
2 cm
wide
sports
tape
.
-
emergency
blanket
(
minimum
size
200 cm x 130 cm, no
cuts
or
tears
)
- mobile
phone
*** (
turned
off
,
sealed
in a
bag
provided
by
the
organizers
)
***a
working
mobile
phone
capable
of
calling
to
Finnish
numbers
and
capable
of
receiving
SMS in
the
competition
area
(
check
your
roaming
details
and
note
the
GSM
standard
) in a
waterproof
packaged
.
The
competition
timetable
Tuesday
, 30.6.2015
Training
area
with
controls
opens
.
Wednesday
, 19.8.2015
12:00
Closing
of
Competition
Area.


Competitors
and
assistants
are
not
allowed
to
move
in
the
terrain.
Thursday
, 20.8.2015
18.00
Event
center
opens
18.00 Camping
area
opens
Friday
, 21.8.2015
12.00
Race
Office
opens
-
registration
opens
12.00
Race
information
will
be
published
at Bulletin Board and
web
page
.
12.00
The
official
WRC 2015
opening
ceremony
13.00 IRF
Meeting
at
Kiilopää
22.00
Race
Office
closes
Saturday
, 22.8.2015
6.00
Race
Office
opens
8.00
Final
WRC
race
information
will
be
published
at bulletin
board
(
only
)!
9.00
Distribution
of
maps
9.00
Pre
Race
bulletin at 9 at Bulletin Board (
if
needed
)
10.00
Pre
Race
bulletin at 10 at Bulletin Board (
if
needed
)
1
1
.00
Pre
Race
bulletin at 1
1
at Bulletin Board (
if
ne
e
ded
)
11.00 SI-
card
clearing and
sealing
to
wrist
opens
.
11.00 Electronic
device
sealing
and
checking
opens
.
11.15
Entry
to
starting
area
opens
,
entry
only
with
cleared
SI
cards
11.45
Entry
to
starting
area
closes
12.00 (at
noon
)
Start
of
the
competition
15.00
Hash
House
opens
Sunday
, 23.8.2015
12.00 (at
noon
)
Finish
of
the
24-hour
competition
12.30
Finish
closes
12.00 - 15.00
After
Race
Meal
(
The
meal
is
provided
inside
the
restaurant.
Competitors
must
shower
before
entering
the
restaurant)
14.40
IRF
greeting
s by IRF President Richard Robinson
15.00
Prize
Giving
Ceremony
Monday
, 24.8.2015
12.00 Camping
area
closes
14.00
Event
center
closes
Location
The Competition area is located round
Kiilopää
Fell Centre (13) and for those who have not visited Finnish Lapland it must be stated that it
really is north from Polar Circle (Latitude 68,4 North) but the thanks to Golf stream the conditions will not be so extreme.
But be prepared weather changes can happen fast.
Sunset and sunrise
One important aspect of the latitude is the way day changes to night and back. The sunset will be 21:32 and sunrise 04:55 but the twilight time will cut out of the real dark time close to 4 hours (twilight to 22:54 and from 03:33). On the other hand, as the sun will spend lot of time close to the horizon line the real light conditions will be sensitive to clouds. Watch for the weather forecast – it will give you a good estimate how dark and how long the night will be, not just telling you the weather conditions.
Weather
The average temperature around mid-August has been 15-20 deg C in daytime and 5-10 C during the night. However, in clear sunny weather the top temperature can be above 25 C and night temperatures can drop to freezing point.
As a part of the competition area is on the open tundra of the fells, there will be little or no protection against the wind. Make sure you
choose carefully which race equipment to bring with you.
Terrain
Big part of the competition area is in
Urho
Kekko
nen National park. You can find more
information
here (14)
.
Some specific features are explained in the "Event Info / Message from Course Setter
(15) "that is still valid
.
The competition area is on fells (small mountains) and surrounding forests with some small wetland areas. In general, all of it is easy to cross and visibility is excellent. The altitude is between 170 and 550 m and highest individual slopes can be over 200 m high.
Vegetation on the fells is insignificant – they are practically open. When heading down slopes from the open fells, the first zone is of mountain birch which can give reduced visibility, and then comes open pine wood forest.
A small part of the area is wetland, more dry "jänkä", which can consist of bushes and trees that may slow you down, and totally open bogs which can be crossed relatively easily.
For navigation, the use of compass and the ability read subtle contours will be the most significant techniques.
There are many rivers & creeks in the competition area, giving you an almost constant supply of drinking water. With the exception of one creek crossing the centre of the competition area (Kiilo-oja), all water can be considered as drinking water. On the competition map, suggested sites for taking drinking water are shown, but there are many more available. You may choose to bring water purification tablets with you, but locally they are not considered necessary.
All the rivers/creeks in the competition area can be crossed but please be careful to choose the better places when doing so. One river is quite wide but relatively shallow. You may wish to carry a walking pole to make the crossing easier.
There are lots of trails in the area. Those marked on the map are clear, visible and in good condition. In addition, there are lot of small unmarked trails, which offer no benefit.
In parts of the area, small scale gold mining is practiced. For that reason, there will be a lot of small temporary cottages or mobile houses in the terrain. These are not marked on the map. The gold miners also make many small pits and these are also not shown. For navigation, those things play no role so please do not disturb those people. One control, however, is directly in a pit and at that site you may look around the workings.
Because the area can experience harsh weather at various times in the year, many shelters of differing types, have been built. They will be marked on the competition map and they will be open for competitors to rest or shelter during the event. We encourage you to go to these places for safety in case of emergency.
---

The semi-open ("laavu" – upper left) shelter and cottage ("autiotupa"- upper right) will be marked with the symbols shown next to the pictures. In both cases, there is a toilet next to the shelter for use also.

The shelters are open for everybody - including people not there for the Rogaine - so please respect the rights of other hikers who are there. Importantly, please be careful not to disturb people who are sleeping in them.

In the cottages, there will be a stove and if your are really cold, you may heat it up. There are also semi open shelters where you can have a fire but ONLY IF THERE IS NO BAN FOR OPEN FIRES at the time of the race. If such a ban has been declared, competitors will be informed on Saturday morning before the maps are distributed.

In the area is one specialty: Fences for the reindeers.
Only a few major ones are marked on the map but there are now some new, some temporary and some outdated, which may not be shown on the map. When you need to cross these fences, DO NOT CLIMB IT. The fence will not take that weight so, instead, go under it! It is the easiest and fastest way, and importantly it is the only way approved by the locals.

Sometimes, especially when a fence is crosses a trail or road, there are gates which can be used. But you must close the gate after you!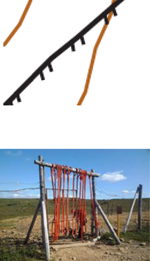 Map and controls
The map is based on Finnish "Peruskartta" -Basic topographical map (16)– which is very good in quality.
Some corrections based on latest information (fall 2014/ spring 2015) have been added to the map.
The competition map will be printed ON PAPER with a scale of 1: 40 000 and 5 m contours. Each 4th contour will be in bold (20 m), to make the map easier to read. The map is 72 x 52 cm and there will be clear plastic map bags in that size available with the map.
The training map (17) is produced from same material and printed in the same way as the final map.
Controls will be located on objects which can be clearly navigated to, and which are normally visible from a distance of approximately 40 m (which is 1 mm on the map). Controls are marked with standard orange-white orienteering type control flags and there will be a small reflector on each control. Flags will be hung at about 50-100 cm above the ground.

Typical objects used in the competition for controls – a copy from the training map.
At controls close to the competition center, where there will be greater numbers of competitors, particularly at the beginning of the event, there will be up to 4 SI units for punching. Any one of these units can be used.
Control descriptions are given in symbols used by the International Orienteering Federation (18)
A written translation in English is also included.
Control descriptions are given on a separate A4 paper sheet at the same point as the maps are distributed. On that page, the last column in the symbol description sheet is currently empty. It will be used as a back-up in case a SI unit fails. If that happens (so if there is no "Beep" signal) please write the symbol code, from that control, in the final column. All controls are set up the same and an example of a 'model control' will be available to be seen at the competition centre. Please make sure you know where to find the symbol code on the model control, before the event starts.
In total, there will be 68 controls used in the race, with a ranking from 2 to 9 points. As normal for most rogaines, the control number on the map informs you of its value. For example, control 20 is worth 2 points, 42 is 4 points, 99 is 9 points and so on. So all controls are numbered in the range 20 to 99.
Animals and nature
A big part of the competition area is a natural reserve. This means that competitors must honor the rules of the park AND honor the sensitive nature itself. There must be NO littering or damage of any the natural surroundings.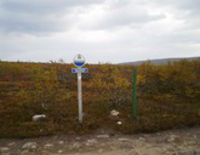 The National Park border is marked as shown in the photo. It is not always a visible feature on the ground, so you must not expect to navigate by it.
Bears, wolves, eagles and other big, shy animals live in the competition area. You will see them only if you are extremely lucky. The most likely animals to be seen are shown below.
There will be mosquitos and other small insects. Depending on the weather there could be lots of them or not so many. We recommend carrying insect repellent in case of allergy but there should be no risk for healthy people.
The most common birds are Kuukkeli and these are plentiful in the area.
There are some foxes who are familiar with humans and may come very close to you. Please be careful - they love to steel your goods (food but also other things) if you will give them a chance for that.
Reindeer is the animal you will most likely meet. They are cattle for local people and they must be left in peace. If possible, pass the reindeer from upwind so they can smell you. There is no risk that they will attack.
Shelter during the route planning
We have received some enquiries from competitors travelling long distances to reach the area, about the possibility to have a shelter. We have been working on a solution where it is possible to rent a shelter, some space on a table with a chair for the route planning period.
At the moment, it looks like a local sports club is able to arrange this kind of service. We now kindly ask all teams who really need this kind of service to fill the form (19) so that we can then estimate demand for this service and negotiate the deal.
Rent-a-tent
If you cannot bring your own tent, we are working on a solution to be able to provide rental tents. It is difficult to get rental tents in big quantities, so we are asking only the competitors who really need them to fill the form (20). We hope that if you can bring your tent with you, you will do so. This service is focused on teams that find it impossible to bring a tent.
Course setting workshop
There will be a course setting workshop after the race (24.-25.8.) at Kiilopää area, organized by David Baldwin. Rogaine Course Setting and Vetting Workshop
(21). There are still places left. For more information, please contact David Baldwin.
Bulletin 5
Will
be
published
at 7.8.2015
You need to know something more?
If you have any questions, check the FAQ (22) first. If your question is not already answered, please do not hesitate to send it to us by using a link at the bottom of the FAQ page.
Fair
Play
spirit
.
May
the
best
team
win
!
Kalke ry
Links:
1) https://www.vr.fi/cs/vr/en/frontpage
2) http://www.finnair.com/fi/gb/
3) http://www.norwegian.com/uk/
4) http://www.europcar.com/
5) http://www.eskelisen.fi/liitteet/Ivalo%20airport%20August%202015.pdf
6) https://liput.matkahuolto.fi/connectionlist?lang=en&arrivalPlaceId=s1963&departurePlaceId=p472&departureDate=2015-08-19#breadcrumb
7) https://liput.matkahuolto.fi/connectionlist?lang=en&arrivalPlaceId=s1963&departurePlaceId=p472&departureDate=2015-08-19#breadcrumb
8) http://wrc2015.rogaining.fi/transport-saariselkauml-kiilopaumlauml.html
9) http://wrc2015.rogaining.fi/invitation-22-2382015.html
10) http://wrc2015.rogaining.fi/bulletin-1.html
11) http://wrc2015.rogaining.fi/bulletin-2.html
12) http://wrc2015.rogaining.fi/bulletin-3.html
13) http://www.kiilopaa.fi/en/home.html
14) http://www.outdoors.fi/destinations/nationalparks/urhokekkonennationalpark/Pages/Default.aspx
15) http://wrc2015.rogaining.fi/message-from-course-setter.html
16) http://www.maanmittauslaitos.fi/en/maps/map-products/printed-maps-and-prints/basic-map
17) http://wrc2015.rogaining.fi/training.html
18) http://orienteering.org/wp-content/uploads/2010/12/IOF-Control-Descriptions-2004.pdf
19) http://wrc2015.rogaining.fi/shelter.html
20) http://wrc2015.rogaining.fi/rent-a-tent.html
21) https://www.facebook.com/events/1438332749818136/
22) http://wrc2015.rogaining.fi/faq.html